Gateway glorifies is a committee composed of several members of the church that work closely with the staff and leadership of Gateway to find ways for the church to identify and meet the needs of our surrounding communities and missionaries throughout the world. Most of the events that are outreach or service oriented are organized through Gateway Glorifies. At its core, this group is dedicated to helping others come to know, experience, and trust the love of God as demonstrated through our actions. It is our hope that by our actions the world will know we are Christians and know our God, or in other words, we hope the world can benefit from our lives while we give the glory to God. Below are examples of ways we are committed to making God known.
The Direction
Gateway Glorifies is guided by a basic direction: to help in the work of reconciling the world to God (2 Cor 5). Ever since the Fall, when Adam and Eve first sinned, the world has been broken and God has been working to heal, reconcile and bring creation back to its intended place. We believe that we also have a role to play in this work. To do this we try to plan service projects and events that help fix the brokenness of the world. We strive to help repair three broken relationships: humanity with God, humanity with one another, and humanity with creation. Each of the events we plan therefore either try to bring people closer to God, people closer to one another, or people in better relation to creation (and sometimes we strive to do all three). We recognize that only God can fully heal the brokenness of the world, but we also feel called to help where we can.
Shade the Valley
More recently, Gateway participated in an event in Scottsdale called Help Shade the Valley. We did not organize this even, but we sent a group of volunteers to help distribute trees to families to plant in their yards. We hope that our time there was useful in representing a loving and caring God to those we served with and to, and we hope that our efforts were a small step toward restoring some health and nourishment to our environment.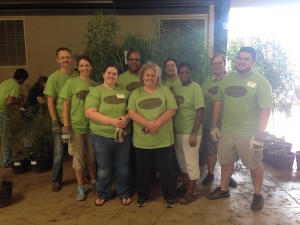 International Missions
On a larger scale, Gateway also support missionaries in El Salvador and Ghana, as well as providing occasional support for other missionaries and groups. For years we have been providing consistent financial support to El Salvador and Ghana, as well as educational resources, teaching materials, and emotional and spiritual support to the missionaries and churches there. It is our goal to not simply help spread the gospel in other countries, but to also establish and maintain relationships with the people there. We believe we can offer each other much in our walk with Jesus if only we are willing to learn and grow with each other's support. For this reason, it is our hope that we not just financially support missionaries, but we partner with and form bonds with other congregations throughout the world for the benefit of God's Kingdom.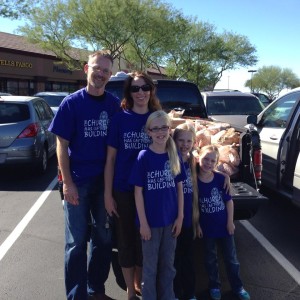 Open Arms Care Center
In downtown Gilbert there is a wonderful organization, Open Arms Care Center, that provides food, clothes, toiletries, and a few odds and ends to some who have no home and some families who are eligible for support. Instead of reinventing the wheel and starting our own ministry to do the same work we partnered with Open Arms to raise funds, supplies, and volunteers to help them help others. For example, recently we gathered on a Sunday morning for a brief worship and then went as a church to Fry's to shop for groceries to take to Open Arms to help stock their pantry.
Red Thread Movement
The Red Thread Movement is a non-profit organization that seeks to fight human-trafficking along the India/Nepal border. Women and girls are being illegally transported across this border to be sold into slavery, and Red Threads finds these women, prevents their trafficking, and rehabilitates them. Once these women are rescued, Red Threads provides them with housing, food, education, and work so that they can get back on their feet, rebuild their lives, and heal from what is without doubt one of the most dreadful tragedies someone can live through. We have partnered with this group to promote their cause and to raise funds by selling goods made by the women who have been rescued from slavery. For more info click this link. Proceeds from every bracelet, blanket, shirt, bag, or any other item sold go directly to support these women and give them a second chance in life.